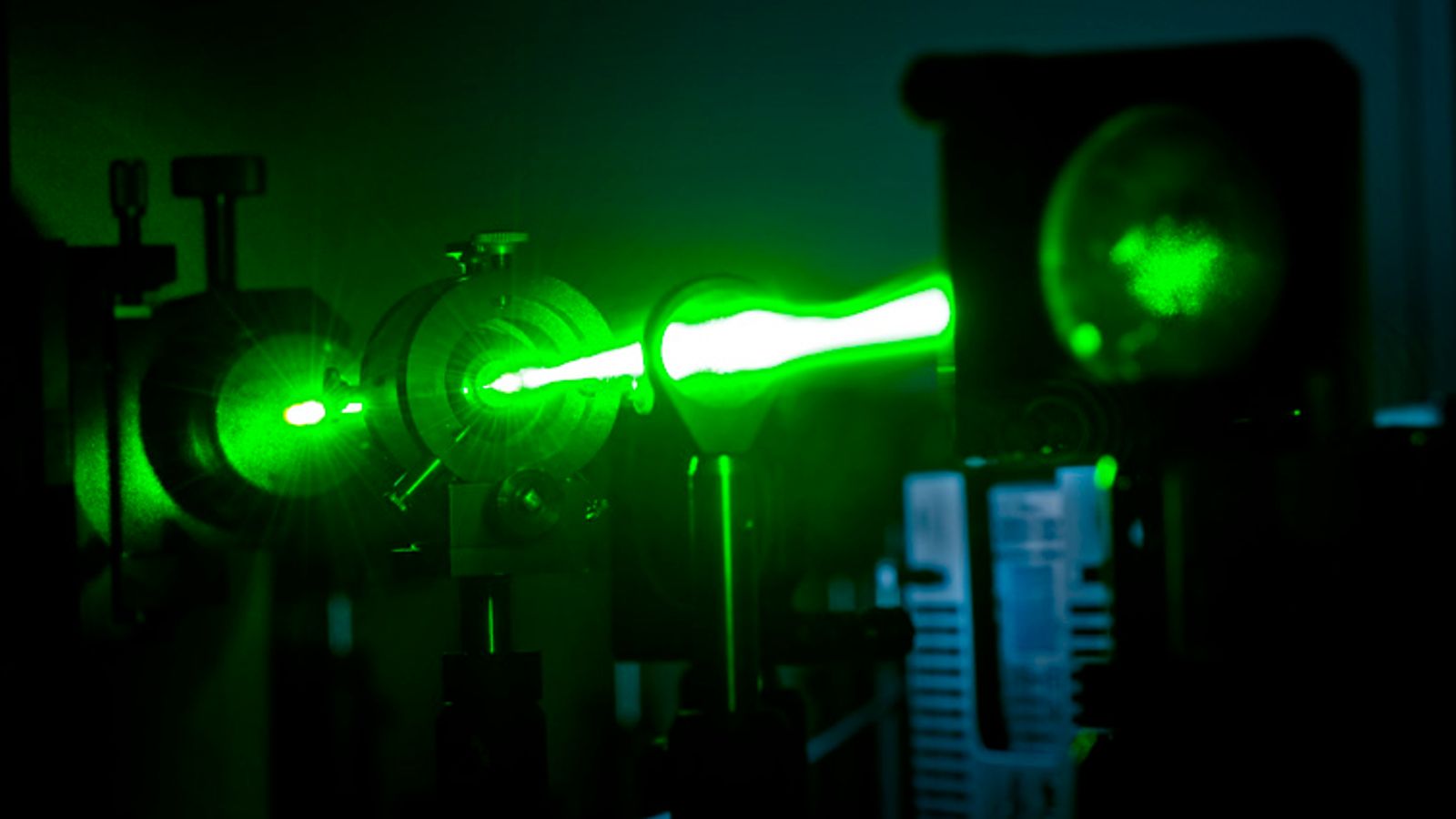 The world's most powerful laser is to be built in the UK and will be 'million, trillion, trillion' times brighter than the sun | Science and technology news
The world's most powerful laser is to be built in Oxfordshire, thanks to £85m of new funding for the technology.
Scientists aim to develop the technology, which will be "a million, billion, billion times brighter than the brightest sunlight" in the world.
It is believed that the technology will have practical applications in nuclear fusion, renewable energy and batteries.
The most powerful laser currently at the Central Laser Facility in Oxfordshire is the Vulcan, which is used in plasma physics.
The Vulcan 20-20 will have a 20-fold increase in power with eight additional beams, making it the strongest laser in the world.
A single pulse from the laser will deliver more power than the entire National Grid, in a burst lasting a trillionth of a second on a small target.
The construction of the laser will take six years to complete, which will create a number of jobs in the science sector as well as for designers, engineers and technicians.
Read more on Sky News:
Laser beam is used to divert lightning strikes
Queen star helps NASA mission return asteroid samples
Professor Mark Thomson, executive chairman of the Science and Technology Facilities Council (STFC), which provided the funding, said: "The Central Laser Facility has been a driving force behind discoveries that have advanced our understanding of various areas from the fundamental properties of matter under extreme relation to the formation of stars and planets."
Professor John Collier, Director of the Central Laser Facility, added: "Vulcan has been the flagship laser at CLF for many years and widely recognized internationally as a cutting-edge facility.
"Over the past 40 years, it has made important contributions to plasma physics research and hundreds of PhD students have been trained at the facility.
"It is time for Vulcan to undergo its next major upgrade, making it ready to serve a new generation of scientists, ensuring the UK maintains its leading role in this field."
The current Vulcan project helped map how COVID infects and damages cells during the pandemic, as well as developed new techniques for security screening at airports.
Science Secretary George Freeman said: "Re-establishing the UK as home to the world's most powerful laser is an exciting opportunity to explore the uncharted in astronomy and physics, progress towards new clean energy sources for the benefit of our planet and much more.
"By investing £85m to give our research community a head start in leading critical scientific discoveries, we are also delivering hundreds of high-skilled science and engineering jobs, boosting the UK's science sector and growing our economy."