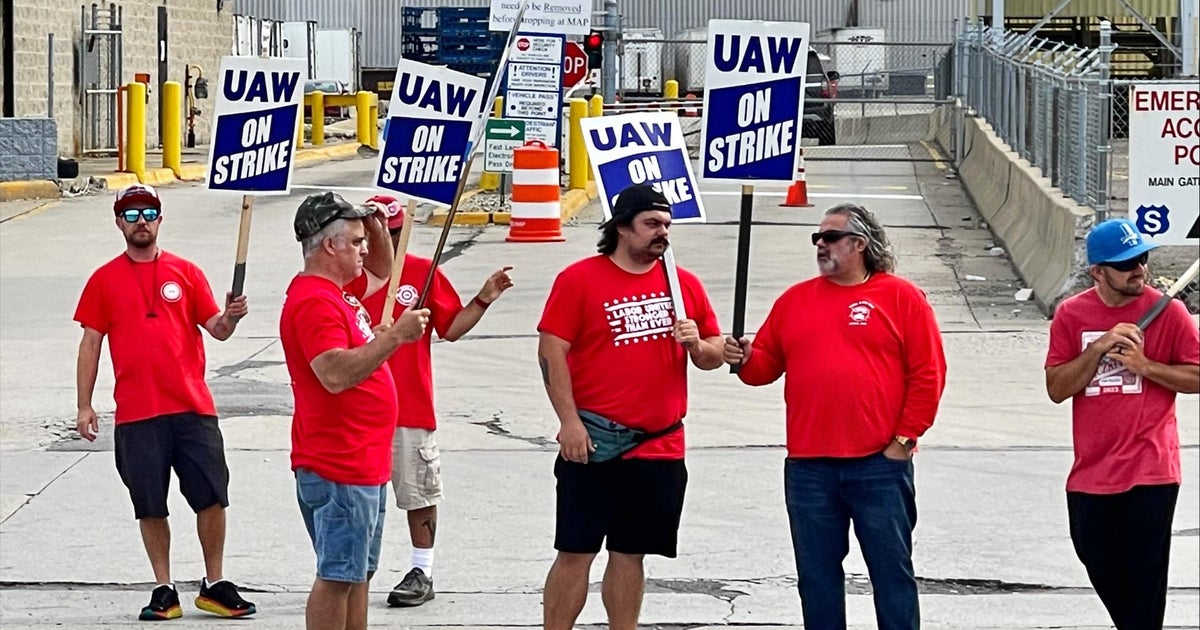 UAW Expands Strike Against GM and Stellantis
The United Auto Workers is expand its historic strike against Detroit's Big Three automakers to include General Motors and Stellanti parts distribution centers across 20 US states.
UAW President Shawn Fain said during a Facebook Live address Friday that workers at 38 GM and Stellanti facilities will walk off the job at noon local time. GM and Stellantis "are going to need some serious pushing" to get closer to an agreement, said the union leader, who wore a black-and-white camouflage-printed union shirt.
"We're not going to wait forever for a fair contract," Fain said. "The companies know how to do it right."
Notably, the labor group does not target Ford for further strikes. The union is making progress with Ford on wages, job security and other issues, according to Fain, who said the company "is serious about reaching an agreement."
Specifically, Ford has agreed to dismantle the two-part wage system at its Components and Sterling axle assembly plant in Ypsilanti, Michigan, Fain said. The automaker has also agreed to reinstate cost-of-living adjustments — which were eliminated in 2009 — and the right to strike over factory closings. Other concessions Ford has made include increased profit-sharing payments, which will also be offered to temporary workers who have been on the job for 90 days.
"Ford is working diligently with the UAW to reach an agreement that rewards our workforce and enables Ford to invest in a vibrant and growing future," the company said in a statement. "While we are making progress in some areas, we still have significant gaps to close on key economic issues."
About 5,600 Big Three workers will join the nearly 13,000 already on strike. In an unusual public show of support from a sitting president for striking workers, President Biden will travel to Michigan on Tuesday and join the protest, the White House announced Friday afternoon.
"The President will join the strike and stand in solidarity with the men and women of the UAW as they fight for a fair share of the value they helped create," the White House said.
The UAW's move to escalate the work stoppage highlights how far apart the site remains on key union demands, which include a 36% wage increase across a four-year contract, annual cost-of-living adjustments, pension benefits for all employees, greater job security and a four day work week.
GM and Stellantis, the parent company of Chrysler, Dodge and Jeep, have rejected union proposals for job security, reduced use of temporary workers and profit sharing, which is why the union's extended strike is targeting their facilities, Fain said. Those factories will remain on strike until GM and Stellantis make more concrete offers, he said.
What the car manufacturers say
GM said in a statement Friday that the strike targeting 18 of its facilities is unnecessary and is negatively impacting "more than 3,000 team members plus their families and communities."
"We have now presented five separate economic proposals that are historic and address areas that our team members have said matter most: wage increases and job security, while allowing GM to succeed and thrive in the future," said the car manufacturer in a statement. "We will continue to negotiate in good faith with the union to reach an agreement as soon as possible."
Stellantis criticized the UAW's decision to extend the strike, saying it has made a competitive offer to the UAW, including a pay increase of more than 20%.
"Following yesterday's publication of comments from the UAW communications director and the subsequent strike announcement, we question whether union leadership ever had an interest in reaching an agreement in a timely manner," the automaker said. "They appear to be more concerned with pursuing their own political agendas than negotiating in the best interests of our employees and the sustainability of our US operations given the fierce competition of the market."
The automakers say they face pressure to keep costs low to compete with Tesla and foreign automakers, while also investing heavily to accelerate the transition to electric vehicles.
"If we don't continue to invest, we're going to lose ground — fast," GM president Mark Reuss wrote Wednesday in an op-ed published in the Detroit Free Press. "Our competitors across the country and around the world, most of whom are non-union, will waste no time in seizing the opportunity we would give them."
What does the UAW want?
The UAW is pushing the automakers to eliminate the two-tier wage system that exists at all three companies. Upper-level workers — anyone who joined the company before 2007 — earn about $33 an hour. Anyone who joined after that year is classified as lower level, and their pay starts at about $17 an hour. Lower-level employees also do not receive defined-benefit pensions, and their health benefits are less generous.
Fain said employees at parts distribution centers are disproportionately affected by the wage structure. "At Stellantis and GM…parts distribution center workers are permanently stuck on a lower pay scale," he said. "For workers hired after 2015, the top wage is only $25 an hour at most, and it takes eight years to get there."
Along with a wage increase and annual cost-of-living increases, the UAW wants the Big Three to limit their use of temporary workers; strengthen job protections, including the right to strike in case of factory closures; and offer more paid time off. More broadly, the union claims the Big Three reaped huge profits as car prices rose during the pandemic, while workers couldn't enjoy the same benefits.
Why target the parts facilities?
Staging walkouts at GM and Stellanti's parts distribution centers are intended to make it more difficult for the companies to repair cars at their dealerships, Fain said.
"By selecting the parts distribution centers, the UAW is creating a scenario where production disruptions will be harder to predict or manage and could be widespread," Joe Langley, associate director of North American production forecasting at S&P Global Mobility, said in an email. . "A vehicle has thousands of parts, and if one is missing, it cannot be completed."
Lynne Vincent, a professor of business management at Syracuse University, said the UAW's "selective striking" strategy is aimed at maximizing worker leverage while keeping automakers off balance.
"It gives them the power to surprise, so the big three can't fully strategize and create their own counter-tactics," said Vincent, an expert on the psychological impact of strikes.
The UAW's so-called stand-up strike — a rhetorical nod to the "sit-down" strike by GM workers in Flint, Michigan, in the 1930s — started on September 15 when Ford, GM and Stellanti workers in Michigan, Missouri and Ohio walked off the job after negotiations between the automakers and the UAW failed to yield a new agreement.
Automakers responded by announcing temporary layoffs at some factories, starting with Ford Motor which had temporarily laid off 600 non-striking workers at its assembly plant in Wayne, Michigan, on September 15, just hours after workers at the plant had walked off the job.
Stellantis announced this week it temporarily laid off 68 workers at a plant outside Toledo because of the ongoing strike, with more layoffs pending at its transmission plant in Kokomo, Indiana. GM said it will lay off 2,000 workers at its plant in Kansas City, Kansas, because there is no work for them as they rely on parts from the Wentzville plant.
Workers from those plants, as well as those walking away from the 38 distribution sites added Friday, will be paid through the UAW's $825 million strike fund.
Here, GM and Stellanti share distribution facilities where workers are set to strike.
General Motors
Pontiac Redistribution (Pontiac, Michigan)
Willow Run Redistribution (Belleville, Michigan)
Ypsilanti Processing Center (Ypsilanti, Michigan)
Davidson Road Processing Center (Burton, Michigan)
Flint Processing Center (Swartz Creek, Michigan)
Lansing Redistribution (Lansing, Michigan)
Cincinnati Parts Distribution (Westchester, Ohio)
Denver Parts Distribution (Aurora, Colorado)
Hudson Parts Distribution (Hudson, Wisconsin)
Chicago Parts Distribution (Bolingbrook, Illinois)
Reno Parts Distribution Center (Reno, Nevada)
Rancho Cucamonga Parts Distribution (Rancho Cucamonga, California)
Fort Worth Parts Distribution (Roanoke, Texas)
Martinsburg Parts Distribution (Martinsburg, West Virginia)
Jackson Parts Distribution (Brandon, Mississippi)
Charlotte Parts Distribution (Charlotte, North Carolina)
Memphis AC Delco Parts Distribution (Memphis, Tennessee)
Philadelphia Parts Distribution (Langhorne, Pennsylvania)
Stellantis
Marysville (Marysville, Michigan)
Centerline Packaging (Center Line, Michigan)
Centerline Warehouse (Center Line, Michigan)
Sherwood (Warren, Michigan)
Warren Parts (Warren, Michigan)
Quality Engineering Center (Auburn Hills, Michigan)
Romulus (Romulus, Michigan)
Cleveland (Streetsboro, Ohio)
Milwaukee (Milwaukee, Wisconsin)
Minneapolis (Plymouth, Minnesota)
Denver (Commerce City, Colorado)
Chicago (Naperville, Illinois)
Los Angeles (Ontario, California)
Portland (Beaverton, Oregon)
Atlanta (Morrow, Georgia)
Winchester (Winchester, Virginia)
Orlando (Orlando, Florida)
Dallas (Carrollton, Texas)
New York (Tappan, New York)
Boston (Mansfield, Massachusetts)