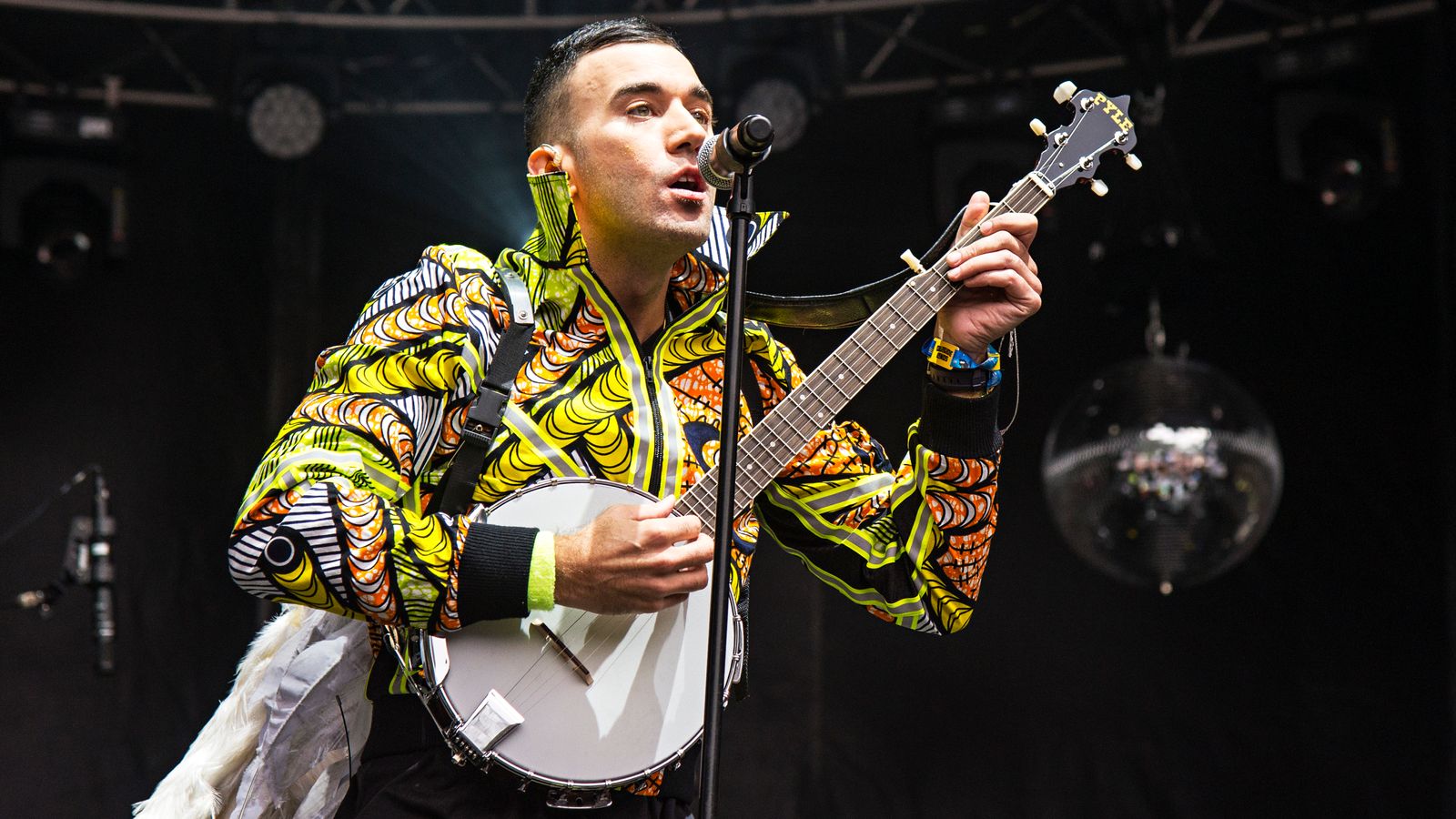 Sufjan Stevens: Musician who woke up 'unable to walk' diagnosed with Guillian-Barre syndrome | Ents & Arts News
Indie musician Sufjan Stevens has told fans he has been diagnosed with a rare and serious nerve condition after he "woke up one morning and couldn't walk".
The 48-year-old American star, who received Oscar and Grammy nominations for his song Mystery Of Love, which featured in the 2017 film Call Me By Your Name, told fans he suffers from Guillain-Barre syndrome and is receiving treatment at the hospital.
He posted a selfie from his hospital bed and wrote: "Last month I woke up one morning and couldn't walk. My hands, arms and legs were numb and tingling and I had no strength, no feeling, no movement.
"My brother drove me to the ER, and after a series of tests—MRIs, EMGs, cat scans, X-rays, spinal taps (!), echocardiograms, etc.—the neurologists diagnosed me with an autoimmune disease called Guillian-Barre syndrome.
"Thankfully there is treatment for this – they give immune-hemoglobin infusions for five days and pray that the disease doesn't spread to the lungs, heart and brain. Very scary, but it worked."
He said he owes his life to doctors after he spent two weeks in bed while they kept him "alive and stable".
He had been on the road promoting his new album, Javelin, which is out next month.
Guillain-Barre syndrome, which can be life-threatening, mainly affects the feet, hands and limbs, causing numbness, weakness and pain, according to the NHS.
Although it can affect people of any age, it is more common in adult men.
Stevens says he is now undergoing rehabilitation and learning to walk again.
He wrote: "Most people who have GBS learn to walk again on their own within a year, so I am hopeful.
"I'm only in my second week of rehab but it's going really well and I'm working really hard to get back on my feet.
"I'm dedicated to getting better, I'm in good spirits and I'm surrounded by a really good team. I want to feel good!
"I will keep you updated as I make progress. Thank you for your thoughts and prayers. And a huge shout out to all the incredible caregivers in the world working day and night to help us heal."
Read more from Sky News:
Celine Dion reveals she suffers from 'very rare' condition
Coleen Nolan reveals cancer diagnosis
He signed his mail, "Sincerely from a wheelchair".
The multi-instrumentalist – who, among other things, plays guitar, banjo, keyboard, oboe and horn – has nine solo albums, and his tenth will be released in October.