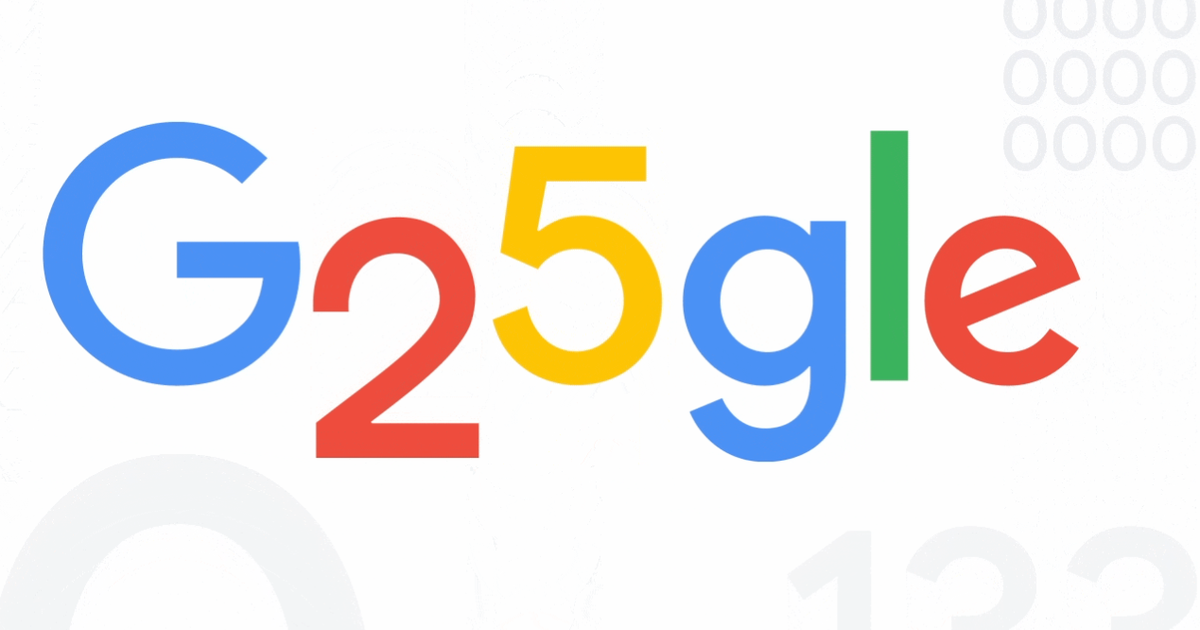 Google is celebrating its 25th anniversary. Here is a look back at the company's history – and its logos
On September 27, 1998, a tool that many people now rely on every day was created: Google. The company, which started as a search engine and has branched out into various products and projects, is celebrating its 25th anniversary with a special Google Doodle. Here's a look at Google—and its ever-changing logo—over the years.
When was Google created?
Google founders Larry Page and Sergey Brin met in 1995 at Stanford University when Brin was considering whether to attend graduate school there. Page was tasked with showing him around – and according to some, they disagreed on almost everything.
But the next year they formed a partnership that led to the creation of a search engine in their dorms. What used to be called Backrub, a search engine that crawled the web and ranked pages based on importance, was later named Google.
By August 1998, they had $100,000 from co-founder Andy Bechtolsheim and left the dorms for a garage in Menlo Park. Google Inc. got its official start.
Susan Wojcicki, who later went on to lead YouTube, which Google bought, owned the garage and became Google's 16th employee.
Google's IPO – when it became a publicly traded company – happened in 2004, and several big business moves have been made since then. The company created Gmail, the Android phone, and bought YouTube, to name a few.
One thing that has been consistent with the ever-changing company: Google Doodles. The homepage logo has been transformed into "doodles" since 1998, when Google marked the Burning Man Festival in Nevada with doodles resembling the wooden man burning at the festival.
Google Doodles
That Google Doodle on September 27, 2023—the company's 25th anniversary—transforms from previous Google logos to the current logo and then to a doodle incorporating the number 25. There's also confetti at the top of the Google results page.
Since its first doodle celebrating the Burning Man festival, the company has featured more than 5,000 Google Doodles. A team at Google selects topics to feature in doodles—mostly anniversaries or historical events—and an illustration team called Doodlers creates them.
Google also has one doodle competition for school children. This year, Rebecca Wu won the sixth to seventh grade category and the overall competition. She was awarded a $30,000 college scholarship and received a $50,000 technology award for her school.
Some Google Doodles are interactive – such as a 2017 doodle that allowed you to play a game of cricket with cartoon crickets, or a 2018 doodle that marked Maya Angelou's 90th birthday with a video of quotes from the author and poet.
To mark the 25th anniversary, there is also a "Google surprise spinner" – a virtual wheel that spins and selects a game at random. The short video games are created by Google and the spinner is of course accessed by Googling.
Google logo
The Google logo has changed several times over its 25-year history.
The original logo was created in 1998 when the search engine was just Brin and Page's grad school project.
The first time the logo changed was to make it a doodle marking Burning Man on August 30, 1998, before Google even incorporated on September 27 of that year and became an official company.
The logo changed on September 27 to include the word "beta".
In 1999, Google got a sleeker look with the Catull font.
The logo's shadow was reduced and the colors became brighter in 2010, the same year Google unveiled its first phone, the Nexus One. Between the previous logo and this one, Google launched Gmail in 2004 and acquired YouTube in 2006.
In 2016, Google replaced its Nexus brand with Google Pixel phones.
The logo got a small update in 2013.
In 2015, the logo got a new font. Same year, Page announced Alphabet would become Google's holding company. Google remained the search engine, and Alphabet is the parent of all the company's ventures, such as Waymo, the self-driving car company.
Page became CEO of Alphabet, while Sundar Pichai was named CEO of Google. In 2019, Pichai also became CEO of Alphabet when Page stepped down as CEO and Brin stepped down as president.