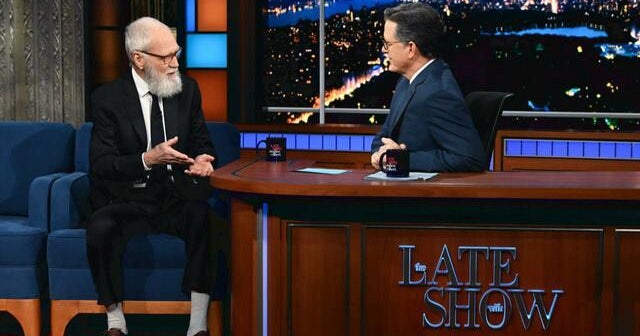 David Letterman returns to "The Late Show" for first time since 2015 in "Colbert" appearance
Monday night's episode of "The Late Show with Stephen Colbert" featured a guest who needed no introduction: former host David Letterman.
Letterman hosted the show for over 20 years, from 1993 to 2015. His appearance was his first time returning to the Ed Sullivan Theater, where the show is taped, since he retired eight years ago.
The audience greeted Letterman with a warm welcome and applause when he sat down as Colbert's guest. Even after he took his seat, the crowd continued to chant his name.
"Stephen, rule your people!" Letterman joked. "This is the most enthusiastic crowd I've been around since the night I announced my retirement."
The comedian said it was a "pleasure to be back" and that much had changed around the theater since he left.
"It's like a mall! It's unbelievable. It's like Rodeo Drive," he said, referring to the popular shopping street in Beverly Hills, California, adding that his dressing room was nicer than any hotel he'd ever stayed in. "Ladies and gentlemen, this is the future of television….I think it's great."
Letterman, who hosted over 4,000 episodes of "The Late Show," said he misses "everything" about hosting.
"Very few things in life provide an opportunity…If you screw one up, you get to try again, and that's a pretty good device," Letterman said. "It was fantastic. It made it more and more fun. And then when you do something that you're really proud of, you think: 'My God, let's do it again'. And six or seven years later you have that experience again."
Letterman has appeared on several late-night shows since his retirement, but as he told "CBS Sunday Morning" in 2015, he wasn't sure if his path would ever lead back to "The Late Show" and its home.
"I don't think I'll ever be back in this building again, honestly," Letterman said at the time. "I think it would be too difficult for me."
On Monday night, however, he returned to the most familiar part of the theater. Colbert invited Letterman behind the host's desk so the two could recreate a selfie they took in 2014.
"In my day, I would never have let this happen," Letterman joked. "We're doing this because my son doesn't believe I had a show."