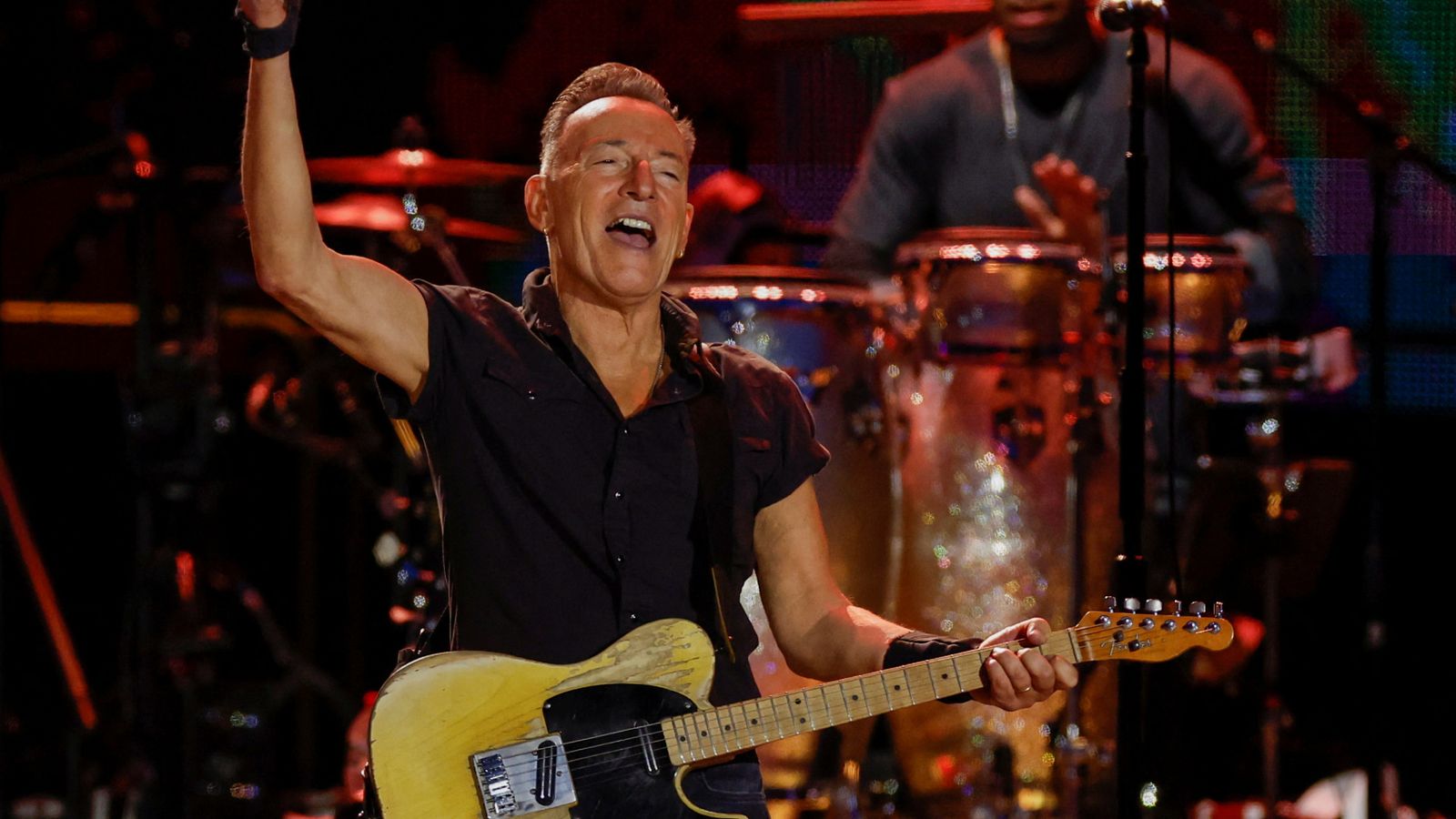 Bruce Springsteen postpones remainder of 2023 tour due to stomach ulcer | Ents & Arts News
Bruce Springsteen has postponed the rest of his 2023 tour as he recovers from a stomach ulcer.
The 74-year-old rock icon, who celebrated his birthday last week, will now perform the remaining tour dates with backing band E Street in 2024.
It was announced on the Born To Run singer's website that he "has continued to make a steady recovery" from the illness over the past few weeks and "will continue treatment throughout the rest of the year as per doctor's advice".
The move to postpone the shows was taken "out of an abundance of caution," according to the statement.
Springsteenalso known as The Boss, thanked his friends and fans for their "well wishes, encouragement and support".
He added: "I'm on the mend and can't wait to see you all next year."
Earlier this month, the Golden Globe-winning musician announced he would postpone his shows in September which was set to take place at several venues around the US throughout the month, including Washington DC, Baltimore, Connecticut and Ohio.
Read more:
The Rolling Stones' back catalog could be given away to charity
Hollywood writers agree to end strike
He was being treated at the time for symptoms related to the ulcer – a disease characterized by open sores developing in the stomach or small intestine, which can cause heartburn, nausea and severe abdominal pain.
The recently postponed shows include Canadian dates and performances in Phoenix, San Diego, Los Angeles and San Francisco.
Rescheduled concerts will be announced this week and will take place at the original venues.
The tour, which started on February 1 in Florida, is Springsteen's first in six years.
His last appearance before the complications began was in his home state of New Jersey, where he performed a three-night stand to a crowd of fans.
His worldwide tour has flown him to Europe, including London.
The shows marked Springsteen and the E Street Band's first tour since February 2017, and their first in North America since September 2016.
They headlined the British Summertime Festival in London's Hyde Park in July, to an audience including eight-time Wimbledon champion Roger Federer, Peter Gabriel, Billy Joel and Jon Bon Jovi.